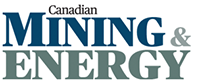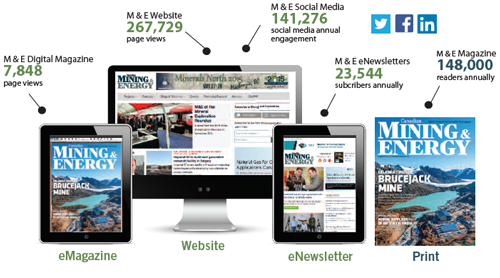 Engage with over 588,397 readers with our powerful marketing package
Focusing on the most important resource—people
Welcome to "Canadian Mining & Energy" magazine. (formerly Mining & Exploration) We've not only changed our name but have broadened our focus too. As Mining & Exploration magazine celebrates its 10th Anniversary we are responding to client and reader demand by expanding our content to include more coverage of the dynamic Liquefied Natural Gas (LNG) industry, the oil and gas industry, and alternate energy sector as well as continuing our focus on the mining and mineral exploration markets.
» View our Canadian Mining & Energy website
» Read an electronic version of Mining & Energy.
Mining & Exploration
At a Glance
Print frequency: Four times per year
Print run: 10,000
Annual circulation: 40,000
Annual readership: 160,000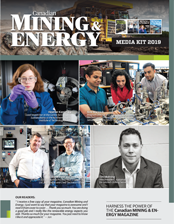 Media Kit Download